Fusion Strike is net uitgekomen, en de prijzen zijn inmiddels al bekend. Heb jij al mooie pulls getrokken uit Fusion Strike? Pokémon heeft ons niet teleurgesteld met de mooie chase kaarten. 
De uitbreiding introduceert een gloednieuwe gevechtsstijl voor de twee van eerder dit jaar, met Fusion Strike die zich voegt bij Single Strike en Rapid Strike. Zoals je zou verwachten van elke Pokemon-uitbreiding, zijn er ook veel prachtige full-art, zeer verzamelbare kaarten om te trekken.
Hier zijn de tien meest waardevolle kaarten van Sword & Shield - Fusion Strike. Bronnen komt uit tcgplayer.com waar de kaarten worden getaxeerd. Hoewel de prijzen in de weken na de lancering kunnen veranderen, hebben we met de pre-release die eraan komt en gaan we al een goed idee van welke kaarten mensen het meest enthousiast zullen zijn.
Let op! De waarde was geldig op 12 november 2021. De tijd dat je deze blog leest, kan de waarde gestegen of gedaald zijn.
5. Mew V alternatieve art - $99,-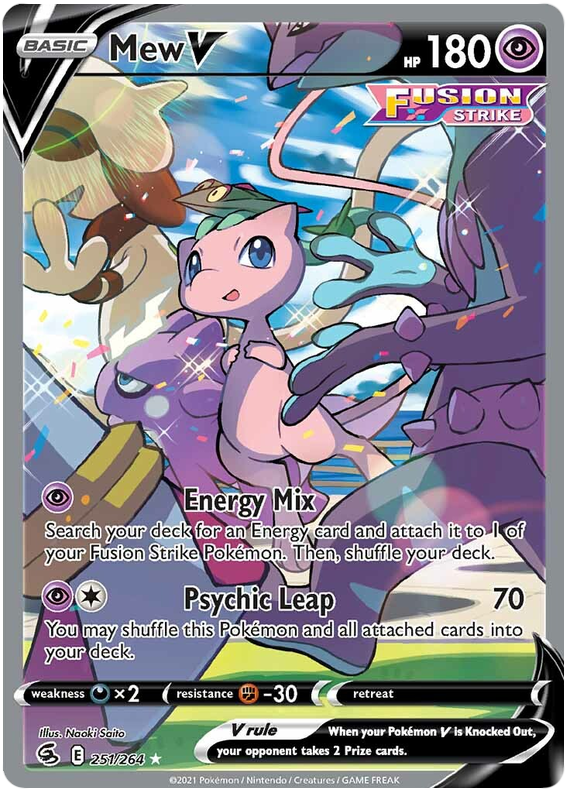 Deze kaart is prachtig met alle Pokemon om Mew heen (Toxel, Toxtricity, Dragapult en Hoopa). Deze kaart is slechts 99$ waard. Let op! De prijzen kunnen per dag verschillen. Deze prijs is op 12 november 2021.
4. Mew Vmax alternatieve art - $157,99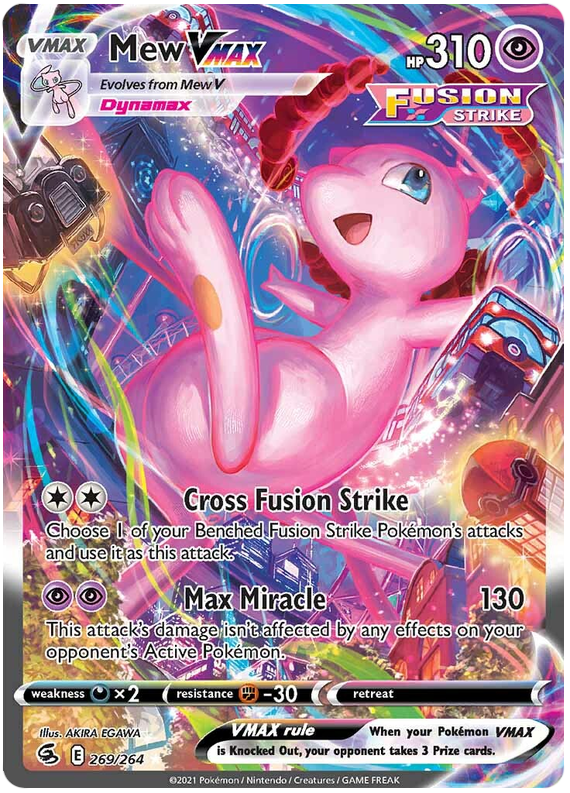 De alt-art Mew VMAX is meer dan 100 dollar meer waard dan zijn normale variant, en terecht. Deze illustratie van Akira Egawa is ongelooflijk en toont Mew die Galar terloops terroriseert door dubbeldekkerbussen en taxi's op te tillen.
3. MEW VMAX Rainbow - $174,99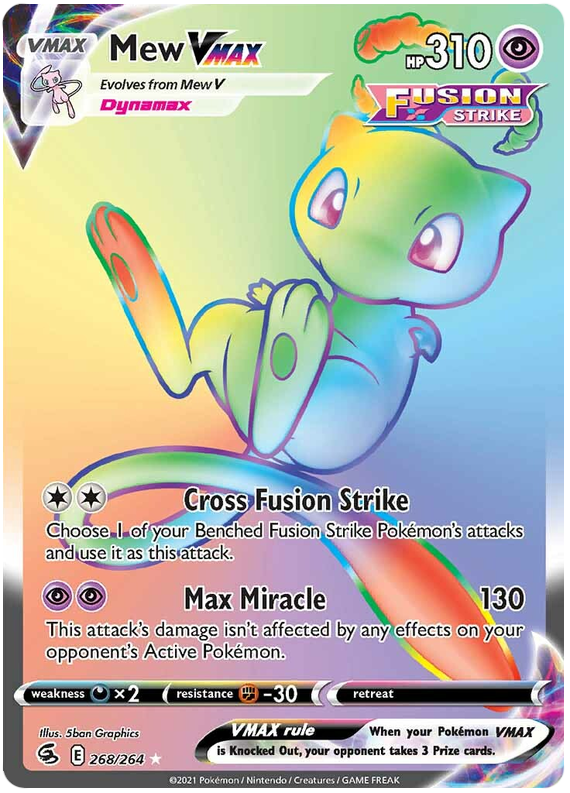 De derde Mew VMAX op de lijst is de zeldzame vorm van de regenboog, een van de zeldzaamste alt-art-stijlen in de hele Fusion Strike. Het is dezelfde Mew als in de basis Mew VMAX, maar weergegeven in een meerkleurige regenboogvorm op een schone achtergrond. Pokemon met het gezicht van een uitbreiding heeft de neiging om zijn regenboog zeldzaam ergens in de top tien te zien (Evolving Skies had regenboog Rayquaza VMAX, terwijl Chilling Reign Shadow Rider Calyrex VMAX had), maar zelfs dan is Mew VMAX veel meer waard dan verwacht.
2. Espeon VMAX - $181,66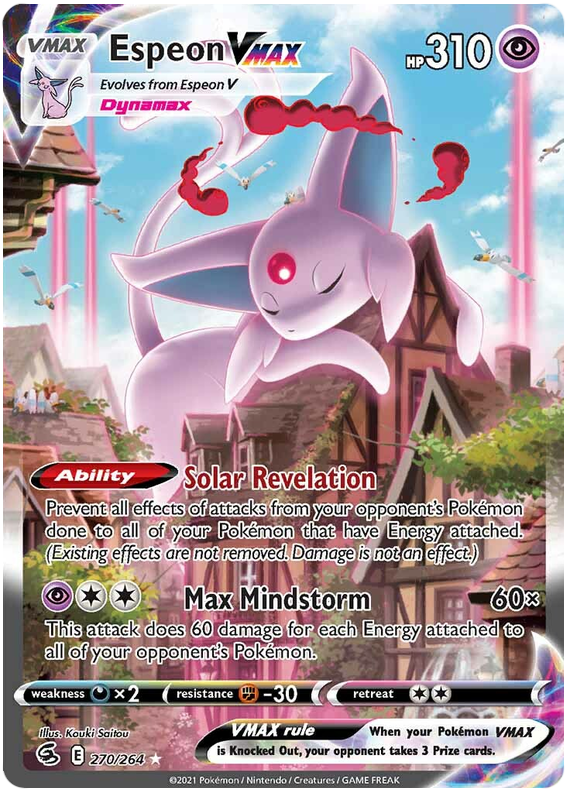 Als je dacht dat we klaar waren met de Eeveelutions in Evolving Skies, had je het mis, want Espeon VMAX ziet er hier amazing uit. Het lopende thema van het hebben van de VMAX Eeveelutions die gewoon bestaan ​​en enorm zijn.
1. Gengar Vmax - 182,50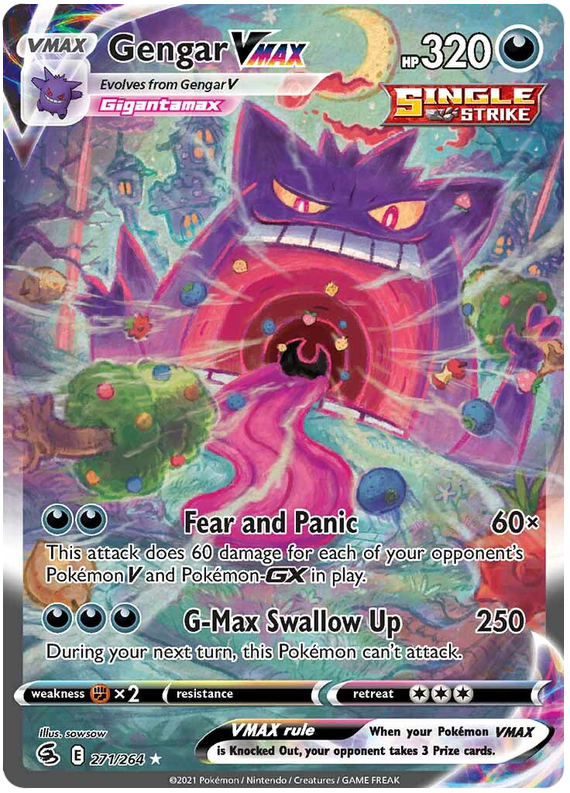 Pas net Espeon VMAX verslaan is dit Sword & Shield - Fusion Strike's meest waardevolle kaart: Gengar VMAX. De spookachtige, krijtachtige kunst van Sowsow is fantastisch, nadat hij ook de schattige Espeon V alt-art-kaart van Evolving Skies heeft gedaan . Gengar is altijd een super populaire Pokemon geweest, en alleen al de brutale gezichtsuitdrukking van deze is genoeg om zijn waarde op te pompen.
Heb je 1 van deze kaarten al getrokken? Of ben je nog van plan om deze set te verzamelen? Misschien vind je iets leuks hieronder!