Pokémon komt met een gloednieuwe uitbreiding van de Pokemon TCG kaarten: V-stars in de nieuwste set: Pokemon Sword & Shield Brilliant Stars! 
The Pokemon Company heeft begin november een nieuwe Pokemon set aangekondigd: Pokemon Sword & Shield 9 - Brilliant Stars! Dit uitbreidingspakket ging al lang geruchten in de Pokémon community, en nu is er een officiële bevestiging te zien van de uitbreiding! 

De Pokemon Brilliant Star-uitbreiding is bevestigd. Brilliant Stars zal de eerste zijn voor het jaar 2022. We krijgen dus niet de Japanse V max Climax-uitbreiding. Maar dat is niet erg, en verderop in de blog zul je begrijpen waarom!
Pokemon Brilliant Stars
De Pokemon Brilliant stars-uitbreiding zal bestaan ​​uit meer dan 170+ kaarten De verdeling van de kaarten is als volgt:

De Pokemon Sword & Shield 9 Brilliant Stars-uitbreiding bevat de volgende kaarten:
4 nieuwe V-sterkaarten (deze omvatten de Charizard V-ster, Arceus V-ster, Shaymin V-ster, Whimsicott V-ster)
15 full-art Pokemon V-kaarten
22 Trainerkaarten
1 speciale energiekaart
6 full-art Supporter-kaarten
20 Pokemon V-kaarten
3 Pokemon Vmax-kaarten
Booster Box
Elite Trainer Box
V-Star Boxen: Glaceon & Leafeon
3 Booster Blisters: Glaceon & Leafeon
Zoals je kunt zien, zijn de vier V-star-kaarten die worden toegevoegd die al zijn onthuld. Ook zijn de trainer-art-kaarten van de V max climax-uitbreiding opgenomen in de Brilliant stars-uitbreiding, dus we krijgen de V max Climax-kaarten maar in een ander pakket!
Wat houdt de V-star in?
Maar wat zijn deze V-star-kaarten en waarom is er zoveel hype om hen heen? 

Pokemon Vstar is een kaart met mechanica die vergelijkbaar is met de mechanica die we al in de Pokemon TCG hebben gezien. Het Sun and Moon-tijdperk van kaarten introduceerde het kaartmechanisme dat bekend staat als de GX-kaarten, een extra GX-beweging die overmeesterd was!

Deze beweging kan maar één keer worden gebruikt, en het was absoluut de moeite waard. Dezelfde monteur zal zijn debuut maken in het zwaard- en schildtijdperk van kaarten in een nieuwe vorm, de Vstar. Dus eigenlijk is het een oude kaart, maar het is ook een nieuwe kaart, afhankelijk van je voorkeur.

Ongeacht de monteur, de kaart ziet er op zijn zachtst gezegd fantastisch uit. De uitbreiding zal ook veel nieuwe kaarten aan de TCG toevoegen, dus let op voor die complete kunsten, aangezien ze de neiging hebben om aanzienlijk in waarde te stijgen!

Pokemon V-Star kaarten onthuld!
1. Arceus V star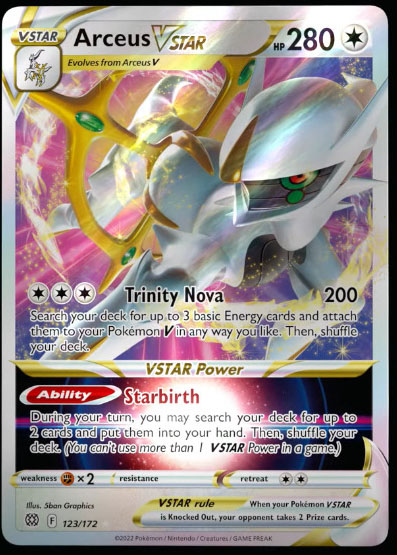 Arceus is een essentiële Pokemon in de toekomst, want er komt een gloednieuwe game naar hem vernoemd. Het is dus alleen maar logisch om de God Pokemon als een V-star-kaart te hebben.
2.Charizard V star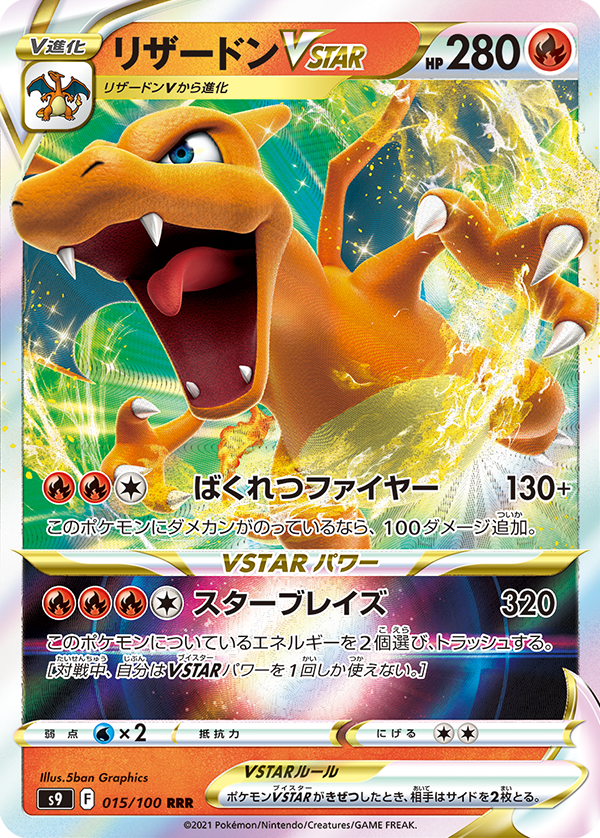 Charizard V-star is een kaart die gekke nummers zal doen wanneer deze wordt vrijgegeven. Er is al veel hype rond de kaart en verwacht dat de stukken omhoogschieten zodra een paar van deze kaarten zijn gevonden.

De Vstar-beweging van de Charizard zal maar liefst 320 schade (damage) aanrichten, wat genoeg is om een Pokemon uit te schakelen. Deze overweldigde V-sterbewegingen zijn de reden voor de introductie van deze nieuwe monteur.

Er zullen ook de Whimscott V-ster en de Shaymin V-ster zijn, maar de kaarten zijn nog niet onthuld! 
Conclusie
Momenteel is er veel hype over deze set. Wij zijn ook erg blij met deze onthulling van misschien wel de mooiste set 2022. Shining Fates kwam in februari 2021, en daar was ook een enorme hype. Dat bleek ook in de verkopen: deze set was onmiddellijk wereldwijd uitverkocht. Wij verwachten dat deze set ook binnen no time zal worden uitverkocht. Wij van Mojocards.nl zullen naar verwachting deze set in de pre-order zetten in december 2021.
Wil je deze set niet missen? Schrijf je alvast in voor onze mailinglijst: klik hier.
Ben jij ook zo excited voor deze set? Laat het weten in de comment.