Pokémon 25th Anniversary | Eerste kaart is bekend gemaakt
Mew is in Japan onhult als een van de kaarten in de 25th Anniversary Celebration collection set.
Mew – Psychic – HP60
Basic Pokemon
Ability: Wonder Tail
Once during your turn, if this Pokemon is your Active Pokemon, you may look at the top 6 cards of your deck. Choose 1 Item card you find there, reveal it, and put it into your hand. Then shuffle the other cards back into your deck.
[P][C] Psycho Shot: 30 damage
Weakness: Darkness (x2)
Resistance: Fighting (-30)
Retreat: 1                                                           
                                                                                                                                                                                                                                            Pokeguardian                                                                                        
Wat is momenteel bekend? 
De 25th Anniversary Celebration Collection 28 kaarten bevatten. Alle kaarten zullen holo bevatten. De meesten Pokemon zullen Mythische Pokemon & Legendarisch pokemon zijn. De set zal 22 oktober 2021 uitkomen. In Oktober wordt ook een promo-boosterpakket "25th Anniversary Edition" uitgebracht met een van de 25 iconische kaarten uit de geschiedenis van de TCG.  Om het te ontvangen moet je 4 boosterpacks van de 25th anniversary collectie kopen in Pokémon Center winkels.
The Big three? Charizard, Blastoise of Venusaur?!
Tot nu toe is alleen base set Venusaur onthult, maar we weten dat we Charizard ook in onze Engelse set zullen krijgen. En vergeet Blastoise natuurlijk niet.
  Pokemonblog
Verschillen met originele Venusaur zijn onder meer de stempel van het 25 jarige jubileum van pokemon, nieuw holofoil-papier, een andere set-ID en kaartnummer en moderne copyrightinformatie. De kaarten in onze Celebrations-subset zullen waarschijnlijk een vergelijkebare behandeling krijgen. Het ziet er ook naar uit dat het een deel van de "textuur" bevat die normaal te vinden zijn op secret rare kaarten van nieuwere sets.
De reprints van de 25th anniversary zullen verboden zijn voor modern tournooispel in het engels zal het ook zo zijn.
Er komt ook een "25th Anniversary Golden Box". Die zal ook op 22 Oktober 2021 in japan verschijnen voor 17.600 yen ( € 135.-) het bevat de volgende items:
A gold Poke Ball card
A gold Pikachu V card
A

 

60 card deck that's completely holo
A

 

set of 64 "premium gloss" card sleeves

A

 

foil stamped rubber playmat

M

etal dice and condition markers

A

 

s

ynthetic leather deck case

A s

ynthetic leather playmat case

A s

ynthetic leather dice case

A

 

Pokemon coin

5 of the 25th anniversary promo packs
Pikachu en de Poke Ball zijn gelabeld uit de 15 kaarten, dus we zullen waarschijnlijk zien dat meerdere kaarten hiervan deel gaan uitmaken van onze Celebrations-set.
De kaarten uit de 25th Anniversary Collectie en het bijbehorende promo-boosterpakket worden gebruikt om onze Celebrations set in oktober te maken. Onze set zal meer dan 45 kaarten bevatten, waaronder een subset van 25 kaarten genaamd Classic Collections, met herdrukte kaarten Pokemon zoals Venusaur en Charizard.
Schrijf je in voor onze nieuwsbrief, zodat jij deze set als eerst kunt pre-orderen op mojocards.nl!
(helemaal onderaan de pagina)
Pikachu anniversary kaarten: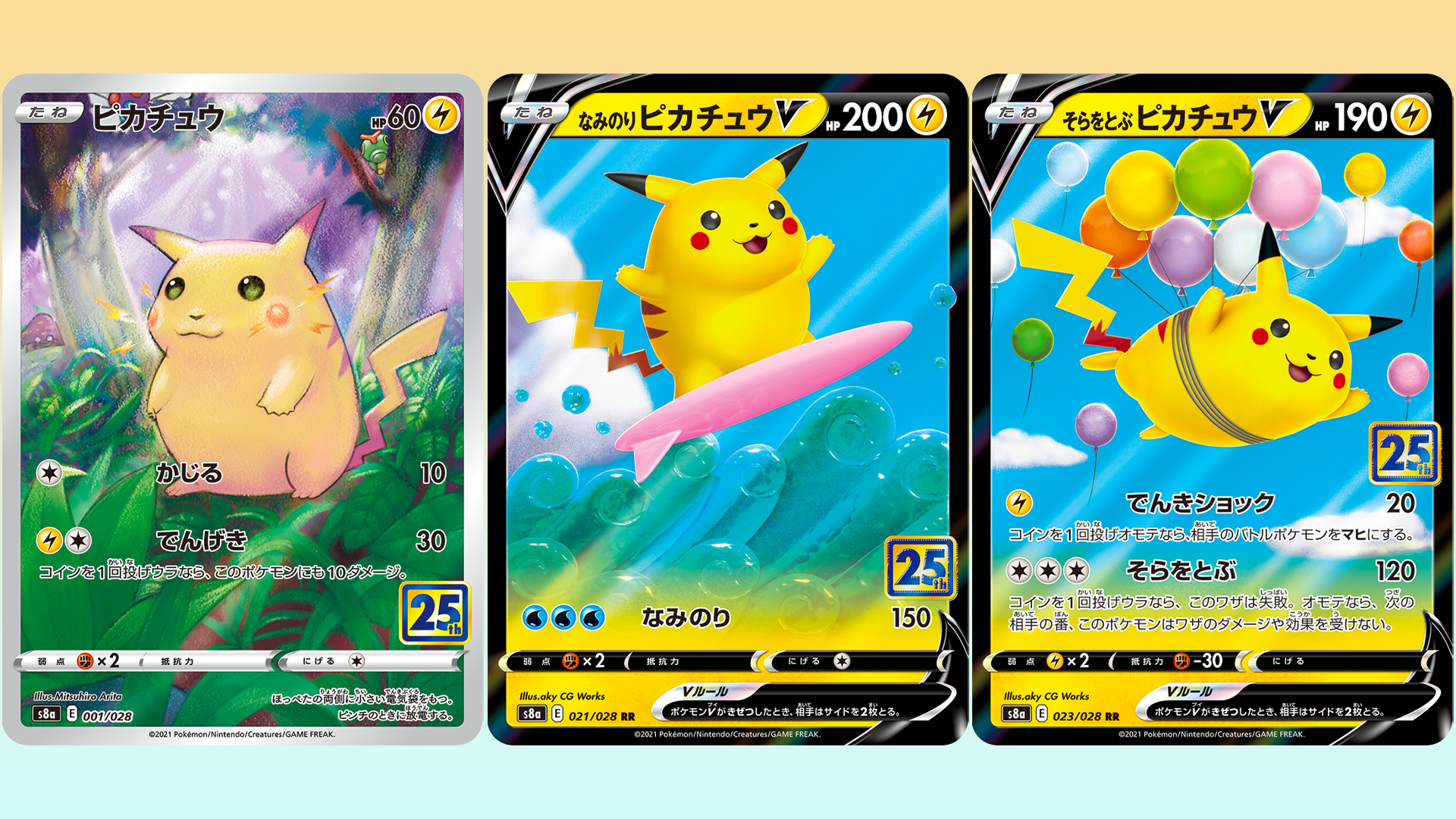 De aankomende 25th Anniversary Collection-set van het Pokémon-kaartspel bevat nieuwe varianten van enkele van de populairste Pikachu-kaarten van Pokémon Trading Cards Games.

De Japanse uitbreiding komt in oktober uit als onderdeel van de viering van het 25-jarig jubileum en zal een aantal gloednieuwe Pikachu-kaarten bevatten, evenals terugkerende favorieten. (Bedankt, PokéBeach.)

Drie van de nieuw onthulde Pikachu-kaarten zijn remakes van iconische kaarten uit de lange geschiedenis van het spel, waaronder promokaarten Surfing Pikachu en Flying Pikachu, samen met de Pikachu uit de eerste basisset van de eerste editie - vaak liefkozend aangeduid als "mollige Pikachu" door liefhebbers.

De varianten zullen gloednieuw artwork tonen op basis van de originele kaarten, met de nieuwe mollige Pikachu met full-body art van de originele illustrator van de kaart en de ervaren Pokémon TCG-artiest Mitsuhiro Arita. Een aantal bug-Pokémon maken nu een cameo in de bosachtergrond van de kaart.
Ben jij ook zo excited voor deze set?